One thing fans of fantasy novels seem to always want is more fantasy novels. I've seen a lot of questions in forums and Facebook groups along the lines of, "I like X book/author, what other books would you recommend I read?"
Unfortunately, most of the responses don't say why the rersponder would recommend Y or Z story. So I decided to fix that

Below is my list of top fantasy novels and series, along with what I see as the strengths and weaknesses of each. Looking for potboiler plots, deep and rich worldbuilding, tropes turned on their head, or sparkling romances? This guide can help you find what you're looking for!

A Court of Thorns and Roses (Trilogy)
By: Sarah Maas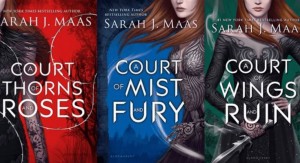 Description
A desperate human peasant must go to live with the terrifying Fae, and discovers that neither of them is what she thought.
This fantasy romance trilogy opens with a classic Beauty and the Beast beginning. A half-starved peasant is captured by a mythical beast and dragged back to its fantastic kingdom, where she has to live forever as penance for a crime. Of course, the beast's ultimate goal is to make her fall in love with him. But Maas excels at breaking tropes, and neither Beauty (Feyre) nor Beast (Tamlin) are what they seem. Both struggle with deep-seated issues, the price they pay in their attempt to win their freedom. Feyre's story is complicated when she fights villains that get larger as the true scope of the trilogy unfolds, and as she's forced to embrace her inner power and craft for herself and her friends the kind of life she's always dreamed of. One of the characters holds court over what he calls his "Court of Dreams", and that seems like an accurate metaphor for the story: how far will Feyre and her cadre of allies go to make their dreams a reality?
Reviews
"Both bodices and bodies are ripped to shreds early and often in this sexy, violent, magic-steeped page-turner. Narrator/protagonist Feyre may sometime bog things down in internal hand-wringing, and an occasional anachronistic howler creeps into the dialogue. But, as the dark, romantic, Beauty and the Beast-based saga unfolds, bestselling author Sarah J. Maas reveals complex characters, puts them in impossible situations, and sets up plenty of developments in future volumes." – Common Sense Media (review of A Court of Thorns and Roses, Book #1)
"…perfect, wonderful, mind-blowing, brilliant, heart-wrecking, action-filled, swoon-worthy and EVERYTHING I never expected. A Court of Mist and Fury is Sarah Maas's best work till date." – The Guardian (review of A Court of Mist and Fury, Book #2)
Strengths
Sarah Maas weaves together fast-paced plots and strong, well-defined characters. Feyre, Tamlin, and Rhysand are deep, complex, and completely realistic. They're both flawed, and (sometimes) completely dreamy. The rapid beats of the plot in book 2 and 3 grip you and don't let go. The world is enchanting, with dazzling backdrops and lots of imagination.
Weaknesses
Not many, frankly. But the middle third of the first book drags plot-wise. Maas is also better at conflict on the individual level, rather than the big armies and complex battles that (say) Brandon Sanderson excels at. The final battle was a bit of a letdown. The frequent sex scenes are steamy, but can be over-the-top; especially with so many of them. Overall, though, this is an incredible fantasy romance story.
The Reckoners (Trilogy)
By: Brandon Sanderson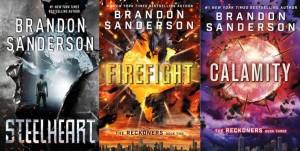 Description
The Reckoners is set in a post-apocalyptic hellscape. The superheroes (Epics) have come, but with great power comes great corruptability, and they've turned into tyrants ruling humanity with iron fists. Young David Charleston joins The Reckoners, a team of freedom-fighters dedicated to killing Epics. But the truth of why Epics are evil eludes David, and when it hits, it changes everything. He realizes that some Epics aren't evil–in fact, he might even like a couple of them. As David and his friends wend through epic (sorry) set pieces and meet odd characters, they re-examine their assumptions and discover new truths; and friends turn into foes and vice versa. Can they survive and restore the world they loved?
Reviews
"FIREFIGHT mostly avoids the "second book slump," offering a new, wetter setting for the superhero action and delivering a couple of monumental twists that kick the plot into high gear at the climax." – Common Sense Media (review of Firefight, book #2)
"Steelheart is a fast-paced, suspenseful page-turner. With cliffhangers at the end of every chapter, it will be hard to put this book down long enough to eat and sleep, never mind doing responsible things like going to work or school." – Karen Rought (review of Steelheart, book #1)
Strengths
Sanderson is one of the best fantasy writers alive today, and The Reckoners is him at his best. The action is as suspenseful and fast-paced as any superhero comic. The characters are real and fun, and even though this story's PG-13, the romance sparkles between David and Megan. But Sanderson transcends the average superhero story by turning tropes on their heads and creating a layered mystery that underlies the whole trilogy.
Weaknesses
The conclusion of the series was a little bit of a letdown, but that could just be personal preference. Apart from that, all 3 books were a delight.
The Stormlight Archive (Series)
By: Brandon Sanderson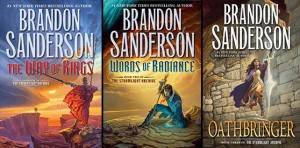 Description
The Stormlight Archive feels like Sanderson's response to A Wheel of Time. A spearman-turned-slave tries to rebuild his life and find joy in a world that has repeatedly betrayed him. A young woman haunted by her past tries to save her family by conning a princess. A warlord with a savage past struggles to unite his people. Against this backdrop of inner struggle, the mythical Voidbringers are coming, and when they do everything changes. The warlord must not only unite the Alethi, but the entire world. The spearman must embrace his role as protector against dark forces. The young woman must infiltrate the Voidbringer horde. The resulting epic is rich, densely-layered, and powerfully moving.
Reviews
"I loved this book. What else is there to say?" – Patrick Rothfuss (review of Way of Kings, book #1)
"If you are an epic fantasy enthusiast and you have not read this book, finish whatever book you are currently reading and make this your next book." – Ryan Lawler (review of Way of Kings, book #1)
Strengths
Most of them. Sanderson is brilliant at character development, and Kaladin in particular (who suffers from depression) is so well-drawn that he taught me new things about my own depression. The world is vivid and complex, with amazing locales. The magic system makes beautiful sense, and the battle scenes are second to none.
Weaknesses
Oathbringer was the weakest of the series. Shadesmar had so much promise, but I didn't find the realm to be that interesting. Some of the action felt a little bit unfocused, and Kaladin's quest to save his parents felt like a dropped thread. I was also looking for more romance, because I know Sanderson can do great romance; but I didn't feel any sparks between the characters. Still a genuinely exceptional read :).
Elfstones of Shannara
By: Terry Brooks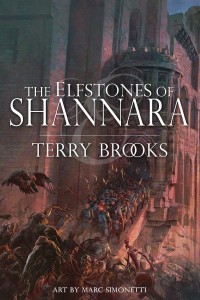 Description
This epic fantasy novel is classic Terry Brooks: complex, relatable men and women thrown into the hero's role and forced to mature on their quest to save the world. The Ellcrys tree is failing, and demons have started to overrun the Four Lands, threatening to destroy everything that lives. Amberle Ellessedil is an outcast Elven princess, loathed by her people, and the only one who can save them. Joining her is Wil Ohmsford, a healer-turned-reluctant-guardian; the two of them must evade demons as they sneak into the most dangerous warren in the Four Lands in search of a way to restore the Ellcrys. As they do, sorcerer-warrior Allanon and the Elven people fight a desperate rearguard battle against an insatiable horde of demons, trying to hold long enough for Wil and Amberle to restore the Ellcrys. The book shifts seamlessly from epic battles to two-man hunts through dangerous forests, and the whole book keeps a grim tension that makes the reader fear that demise is imminent.
Reviews
"It literally had me on the verge of tears, and bumped Brooks up in my estimation." – Fantasy Book Review (7.4/10)
Strengths
Brooks effortlessly switches from epic battles to individual character quests, creating a great contrast. His world is complex and interesting, and the plot twists kept me on the edge of my seat. His characters are realistic and introspective, and they're constantly on the verge of destruction by powerful foes; so even though the book is more than 500 pages, it feels like a fast read.
Weaknesses
Elfstones of Shannara is a little bit monotonal: everything is grim, and everyone's usually about to die. That makes it a fast read, but I wanted some more tonal variety. Amberle is also lackluster as a heroine. Her romance with Wil is critical to the story, but I found it hard to fall in love with her. But these are small gripes about a captivating story

Secret Texts (Trilogy)
By: Holly Lisle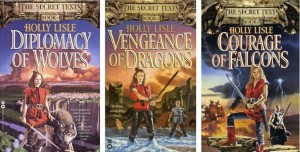 Description
Holly Lisle's first epic fantasy series opens with a classic trope. Heroine Kait Galwaith's family is slaughtered by the wizards of their arch-enemy, and Kait is launched on a quest across continents to find the Mirror of Souls and restore her dead family to life. But like Maas, Lisle excels at breaking tropes. The Mirror of Souls isn't what it seems, Kait's ancestral nemesis is a better man than she assumed, and the people she's fighting have noble motives even as they do terrible things. Kait journeys across a world that is so realistic it could house real people, with complex cultures and realistic politics. She allies with undercover sorcerers, falls in love (twice!), and tries desperately to save the world from a nefarious horde of wizards who value perfection more than human life.
Reviews
"The action is brisk, the characters are–as we have come to expect from Lisle–offbeat, the realistic detail does not tilt overboard into grunge, and the villains are really villainous. Definitely a page turner, certain to please Lisle's established fans, it is also an excellent work with which to make first contact with a fantasy writer who deserves greater repute." – Roland Green, Booklist (Review of Diplomacy of Wolves, Book #1)
"This is no simplistic series where right and good win out. This is a tangled tale where who is good and who is not cannot be measured at all points, where the lies one character accepts make enough sense that the reader has to question what the others are up to. When I was sure what would happen next, who would be the next threat, even who had died, I found myself wrong and yet not in a way that rang false."–Margaret McGaffey Fisk (review of entire trilogy)
Strengths
Lisle wastes no time with a long set-up: she gets right into the action, and these books are page-turners. In spite of that, the world-building and philosophy is so complex and well-thought-out that people could easily live in this world. The plot is fast-paced and twisty, and always surprises; but not in a cheap way.
Weaknesses
I've never been able to fall in love with Lisle's characters. Her hero and heroine are tough, unique, and admirable; but I didn't love them. Romance plays a big role in this series, so that's a problem. Lisle's world is also gritty and realistic, but it doesn't capture the imagination the way Hogwarts or Velaris does. I liked it, but I didn't want a portal to go spend my life there.
Harry Potter (Series)
By: J.K. Rowling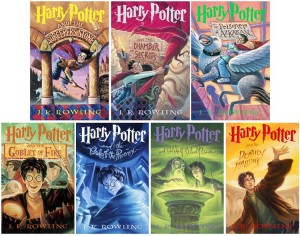 Description
The best-selling fantasy series of all time probably needs no introduction. But for those who have been living under a rock (or in a cupboard under the stairs) for the past 20 years, Harry Potter is the tale of a young boy who discovers that he's a wizard. Transported to a castle called Hogwarts to learn magic, Harry finds friends, learns new skills, and grows into someone who can save the world. This is the classic hero's journey, populated with amazing characters and set against a backdrop that truly captures the imagination–honestly, who among us didn't wait for an owl from Hogwarts when we were 10 years old?
Reviews
"Harry Potter also has echoes of children's classics Charlie and the Chocolate Factory and C.S. Lewis' Chronicles of Narnia. With the help of a noble if nitwitted giant, a few inept but big-hearted student magicians, even a concerned if somewhat distant centaur, Harry takes on powers bigger and stronger than him, growing older and wiser in the process. You don't have to be a wizard or a kid to appreciate the spell cast by Harry Potter." – USA Today (review of Harry Potter and the Sorcerer's Stone, book #1)
"Rowling clearly possesses both an ear and an eye for the unexpected, working her own brand of magic with turns of phrase and flashes of humor that are subtle and sly. In terms of its prose, this book reads like spreading soft butter. Harry is as dear a boy as anyone could hope for, and the characters who support, confound, and downright threaten his life at Hogwarts are lively, engaging, and utterly believable." – Bookpage (review of Harry Potter and the Sorcerer's Stone, book #1)
Strengths
The Harry Potter series has a complex and intricate plot, with multiple sub-plots woven effortlessly together to create a tapestry. The characters are heroic but realistic, lovable but flawed. But Rowling's biggest strength is her ability to create a magical world that pretty much everyone with a heartbeat wants to visit.
Weaknesses
This is my favorite series, so…none?

The magic system is so fluid that sometimes the ending can feel a little bit deus ex machina, but I found the rest of the story absolutely enthralling.
The Lord of the Rings (Trilogy)
By: J.R.R. Tolkien

Description
Like Harry Potter, The Lord of the Rings needs no introduction. It's the iconic epic fantasy series of the 20th century. Hobbit Frodo Baggins is a reluctant hero who must take the evil One Ring to Mount Doom to destroy it. If he fails, then the ring's maker Sauron will overrun the world with armies of orcs and other fell creatures. Frodo and his companions must navigate a richly designed world with complex cultures and fantastic peoples in order to evade Sauron's forces and save the world. But as Frodo does so, the Ring's temptation wears on him, draining his will and threatening to corrupt his spirit. At the same time, his friends stage a desperate holding action against Sauron, buying time with their lives for Frodo to reach Mount Doom and destroy the One Ring–if he can still bring himself to give it up.
Reviews
"Mr. Tolkien is fortunate in possessing an amazing gift for naming and a wonderfully exact eye for description; by the time one has finished his book one knows the histories of Hobbits, Elves, Dwarves and the landscape they inhabit as well as one knows one's own childhood." –New York Times (review of The Fellowship of the Ring, book #1)
"Steeped in unrivalled magic and otherworldliness, its sweeping fantasy has touched the hearts of young and old alike." – Fantasy Book Review (review of entire trilogy)
Strengths
Tolkien is the grandfather of modern fantasy for a reason: he does almost everything well. His world is detailed and rich. His conflicts are complex and his themes speak deeply to human nature. His characters live on in our minds for decades after we first discover them.
Weaknesses
The first half of The Fellowship of the Ring drags, and in certain parts Tolkien misses an opportunity for better pacing. The second half of Return of the King is frustrating to read, because readers know how the story ends but the heroes keep fighting anyway.
The Circle Trilogy (Trilogy)
By: Nora Roberts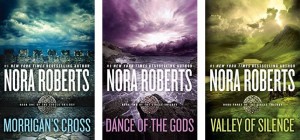 Description
This epic romance combines gods, goddesses, supernatural villains, and heroes and heroines across time into a powerful tale. Goddess Morrigan summons together six warriors to do battle with Lilith, an ancient and evil vampire bent on destroying the world. These six men and women must meet and train together on the Scottish mores, bonding and falling in love; and then lead a huge army of humans against Lilith's demonic horde. Each novel follows one hero and one heroine, charting their romance and their chapter in the grand fight against Lilith.
Reviews
"This well-plotted, finely detailed paranormal adventure is driven by richly developed characters, making it a cut above others in this subgenre, and among Roberts's best." – Publisher's Weekly (review of Morrigan's Cross, book #1)
"Ms. Roberts succeeds in drawing a creative and intriguing picture of the events which would unfold if figures from various centuries and worlds were to come together, with some very comic results."–Uncorked Thoughts (review of Morrigan's Cross, book #1)
Strengths
Roberts' biggest strength is her characters. They're authentic, flawed, witty, warm, and deeply lovable. Each of the 6 heroes and heroines is unique and well-fleshed-out, and you find yourself thinking of them as real people you would want to get a beer with–or at least trade some witty banter with. Her plot is surprisingly dark and edgy, with a key character dying halfway through book 1. And she clearly has a passion for the Scottish mores that shines through in her vibrant scenery.
Weaknesses
In some ways, Roberts is a great romance writer but a bad fantasy writer. Her magic system isn't all that fleshed out, and I never got a sense of what exactly her magicians could do. Her battle scenes leave something to be desired: she's not great at large-scale conflicts. And the romantic conflict is a little weak, although still enjoyable.
Moon & Sun Series (Trilogy)
By: Holly Lisle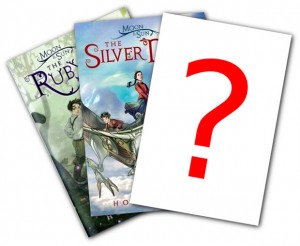 Description
In a world where humans are enslaved to Nightlings, one girl must embrace her destiny as the Sunrider and free her people. Genna never dreamed of being a hero, but when she discovers the power to fight the injustice around her, she and her young friends feel compelled to act. They'll venture into ancient magical castles and rescue stranded princes, as they search for the secrets of why humanity was enslaved and how they can fight back.
Reviews
"By blending classic fairy tale and coming-of-age themes with a fantasy setting, Holly Lisle gives readers a fun and adventurous book that is thoughtful and well-written." – Teen Reads (review of The Ruby Key, book #1)
"Fantasy fans will find both a satisfying adventure quest and the lively coming-of-age story of the reluctant heroine Genna." – Kirkus Reviews (review of The Ruby Key, book #1)
Strengths
Holly Lisle excels at twisty stories that surprise and delight. The twists in the first and second books (the third isn't published yet, sadly) kept me on my toes. The second book especially felt like it was being set up as a classic 'young heroine goes to an ancient castle to learn magic' story, but Lisle excels at pulling unusual rabbits out of ordinary hats. Her world is deep and complex, and she builds much richer worlds than the pretty wallpaper that some fantasy authors use as settings. Without spoiling anything, I loved what she did with the Spire in The Silver Door.
Weaknesses
A lot of the second book feels like it's introducing conflicts that would come into play later, which made it feel slower-paced. Given the story arc was originally supposed to span 7 books, this made sense; but there were parts in The Silver Door that were slow-going.
Ms. Peregrine's Home for Peculiar Children (Series)
By: Ransom Riggs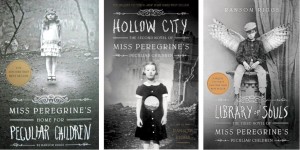 Description
Jacob is Peculiar, but he doesn't know it. At sixteen, he's listless, unmotivated, and doesn't fit into our world. But that all changes when his grandfather dies, and Jacob pursues his desire for closure to Wales. He discovers a secret colony of children with magical powers–Peculiar, like him. But this isn't a cheap Harry Potter knock-off where Jacob attends a magical school with other witches and wizards. The other Peculiars are cursed, and even though Jacob feels alive for the first time in sixteen years, he's not sure he belongs with them. When their caretaker (Ms. Peregrine) is kidnapped by evil Wights, Jacob must decide: does he belong in a magical world with love and adventure and soul-sucking horror, or should he go back to his nice safe home?
Reviews
"(T)his book is for anyone who is willing to embark on an unpredictable reading adventure. It will feel like stepping through a secret door, knowing that there might be danger on the other side, but wanting to do it anyway out of great curiosity and enthusiasm for the anticipated." – Writers Edit (review of Ms. Peregrine's Home for Peculiar Children, book #1)
"It turns out it isn't actually a ghost story, but that doesn't mean that it isn't creepy. It is creepy in the best way possible" – The Guardian (review of Ms. Peregrine's Home for Peculiar Children, book #1)
Strengths
Ransom Riggs has a flair for descriptions, and the scenery and world that Jacob and his friends travel through are captivating. The monsters are chilling, and there are more than a few moments where you're convinced that everyone's going to die. The plot is nice and twisty, and Riggs excels at making his world very non-cliched without just being weird for weirdness' sake. The romance between Jacob and Emma sparkled.
Weaknesses
The story's almost unrelentingly grim, which didn't quite fit my taste–I prefer a little bit more levity and tonal variety. But that might just be personal preference.
*I haven't read A Map of Days yet, and I'll plan to update this post when I do.
Wheel of Time (Series)
By: Robert Jordan and Brandon Sanderson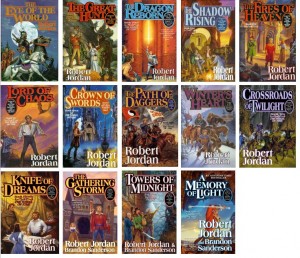 Description
Rand al'Thor is a farmboy turned reluctant hero, a down-to-earth young man who's rescued (captured?) by a mysterious sorceress. The sorceress, Moraine, is on a search for the mythical Dragon that will save the world from impending doom; the Dragon is, you guessed it, Rand al'Thor. But being the Dragon is more of a curse than a blessing. Rand's magic is tainted, and its usage slowly drives him mad. His two best friends find themselves equally cursed and blessed with shapeshifting powers and the memories of dead men. Together, they'll have to rally a world that doesn't want to be saved, convince people who think they're charlatans, and fight off a horde of evil creatures that want to swallow the world and exterminate humanity.
Reviews
"A fantasy book that grips slowly and refuses to let go." – Fantasy Book Review (review of The Eye of the World, book #1)
"There is a lot to enjoy here, and I would be perfectly willing to compare it to a gold mine–those with the patience to dig through the rocks will find it well worth their time." – Manapop (review of The Dragon Reborn, book #3)
Strengths
Robert Jordan (and Brandon Sanderson, who co-wrote the last 3 books after Jordan's passing) excels at writing epic fantasy. His battles are grand and sweeping and filled with the kind of small accuracies that only a trained tactician (Jordan graduated from The Citadel) can provide. His characters are raw, deep, and human. They're flawed heroes struggling to save the world while resenting the burdens they're forced to bear. Each book in the 14-book series ends with a gripping climax that weaves together a dozen narratives.
Weaknesses
The series starts and ends fast, but drags through the middle. Books 1-6 and 11-14 are relentlessly fast-paced without losing their grand narrative feel. But damn, 7-10 really drag.
Throne of Glass (Series)
By: Sarah Maas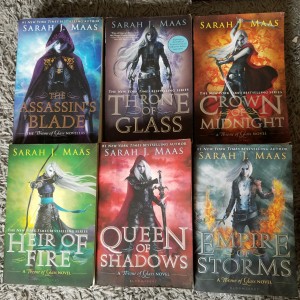 Description
In a world stripped of magic, a princess-turned-assassin fights to bring down an evil king and free her people. Celaena Sardothien is the most feared assassin in the land, and she's recruited to kill on behalf of the king who conquered her people. But she has bigger plans, and across the sea she discovers a destiny as the queen her conquered people need. Can she embrace her destiny and free the world from the ruthless conqueror she once served?
Reviews
"All in all, this is a great start to a new fantasy series. Fans of excellent world building and heroines with mad fighting skills will gobble it up!" – CJ Redwine, YA Books Central (review of Throne of Glass, book #1)
"Heir of Fire is filled with twists and shocks and constant entertainment. It'll have you clutching your book, devouring its pages while you complain the pages just won't turn fast enough." – Laura137, The Guardian (review of Heir of Fire, book #3)
Strengths
Maas writes tight, fast-paced plots that grab you and don't let go. Her romances are hot and true to life: Celaena finds love and loses it, finds it again and loses it again, which is much more realistic and unpredictable than most romance novels. Maas' characters sing. She pulls together complex heroes and villains, and an enchanting world, into a rich tapestry. The later books especially are complex and twisty enough that if you're reading them in public, people will get annoyed with how often you gasp.
Weaknesses
Throne of Glass was Maas' first book, and you can tell. It doesn't have as much polish as her later series. In later books, most of the characters are so used to killing that I found it off-putting. While I preferred A Court of Thorns and Roses, the Throne of Glass series remains enthrallingc.
*Note: As the image suggests, I haven't read the last two books in the series yet (Tower of Dawn and Kingdom of Ash).
Mistborn (Trilogy)
By: Brandon Sanderson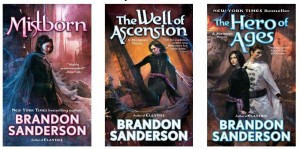 Description
In a world where slaves toil in ash-coated fields, a desperate urchin fights to kill an immortal tyrant. Vin, a waif with a talent for magic, gets recruited by a famous thief for the most important heist of all time: to sneak into the immortal Lord Ruler's castle, past his armies and lethal magic-wielding bodyguards, and kill him. But the series really takes off in the second book, when you realize that the Lord Ruler wasn't just a tyrant. He was also using his unimaginable power to protect the world from an ancient god of destruction. With him toppled, the unlucky heroes are thrust into a fight with Ruin, an almost all-powerful force capable of changing mens' hearts and using the heroes' own tools against them. Can the heroes save the world, or will Ruin destroy everything they hold dear?
Reviews
"Without saying much else, this is fantasy filled with twists and turns that never feel forced. Every surprise has been planned from the beginning, and as each twist is revealed you realize that it had been foreshadowed chapters (or even books) earlier. Each "aha!" moment is deeply gratifying simply because you can see so clearly how Sanderson builds to these moments, how he was always one or two steps ahead of you the entire time." – Erik Kain, Forbes (review of entire series)
"From the superb worldbuilding to the wonderful leading characters to the action-packed plot and overwhelmingly oppressive atmosphere, I loved Mistborn. A brilliant start to what looks to be an incredible trilogy." – Thea, The Book Smugglers (review of Mistborn: The Final Empire, book #1)
Strengths
Sanderson might be the most talented fantasy author alive, and Mistborn is his classic series. The battles are grandiose, but grim; the magic system is clearly laid out; the characters are authentic and powerful. But where Sanderson really excels is in plot twists and pulling rabbits out of his hat, and the Mistborn series reads like an epic fantasy crossed with a thriller.
Weaknesses
The middle of the first book dragged a little bit. Everything went very…according to plan for the heroes, and the lack of surprises made for some frustrating reading. Of course, the ending made up for it

The Word and the Void (Trilogy)
By: Terry Brooks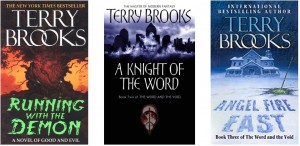 Description
Nest Freemark, a teenager cursed with magic, reluctantly takes up the sword to battle a demon with a terrifying secret. She's helped by John Ross, a knight in tarnished armor who's trying to save Nest–but might settle for killing her. This urban fantasy series often feels more like a thriller, as characters race to defeat powerful evil forces in a matter of days or even hours. Each novel takes place inside only a couple of days, but the potboiler plot still feels complex and multi-layered.
Reviews
"I'll be the first one to admit that I'm not usually a fan of contemporary fantasy — I've always thought that elves and dragons were best left in worlds of high-fantasy. But Terry Brooks has done a marvellous job of crafting a novel that works and, all in all, the combination of good characterization and a fine plot makes for a truly compelling read." – Wayne MacLaurin, SF Site Review of Running With the Demon, Book #1)
"Brooks does a fantastic job of chronicling the days events up until the cataclysmic end. He makes the characters realistic and grounded even though some might have abilities such as magic. The heroes are heroic, but flawed – which make the best kind of heroes." – The Telltale Mind (Review of Running With the Demon, Book #1).
Strengths
Some of Brooks' other stories feel a little slow, so I loved the fast pace of the Word and the Void trilogy. John Ross was beautifully rendered as a knight dedicated to doing the right thing despite the scars on his soul. The potboiler plot kept me up at night, and the world was gritty and realistic.
Weaknesses
Each story has a small scope and a small cast, so it lacks the world-sweeping conflict and epic battles of the Shannara series. But it also wasn't trying to be Shannara.
The Kingkiller Chronicles (Series)
By: Patrick Rothfuss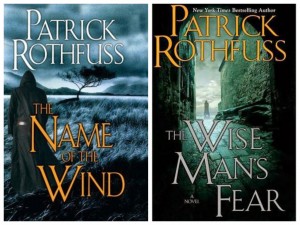 Description
An orphaned genius hunts down the mythic demons who killed his parents. Kvothe is a twelve-year-old with an uncommon intellect and an aptitude for magic when his parents are slaughtered by a pack of demons–the Chandrian. His quest for revenge takes him to the University, where he sharpens his magical skills. He travels across the land, befriending kings and seducing a goddess, looking for demons that everyone thinks are fairy tales. Can he find and defeat the Chandrian, or will his quest end in bitter defeat?
Reviews
"Writers like George R.R. Martin and Gene Wolfe are old hands at revitalizing old tropes, giving fantasy the depth and humanity of the great literary novels, but Rothfuss sets out to retell what should be the most familiar tale of all, in the most familiar mode (the triple-decker). Remarkably, he does make it fresh again in this opening book, complete with an interesting take on magic that adds both emotional impact and intellectual excitement. So bring on volume two! – Faren Miller, Locus (Review of The Name of the Wind, Book 1).
When fantasy fans begin reading THE NAME OF THE WIND, they should be fully prepared to lose all contact with the outside world while immersed in this highly original and mesmerizing tale of magic, love, and adventure. – Hannah Strom-Martin, Strange Horizons (Review of The Name of the Wind, Book 1).
Strengths
Part multi-layered mystery, part epic sword and sorcery story, and part romance, The Name of the Wind series grips you and doesn't let go. Kvothe is both so brilliant and so human that he captivates me. It's like reading the first-person story of a young Albus Dumbledore. His adventures are fast-faced and satisfying. Rothfuss could have been a mystery writer with how skillfully he drops hints and interweaves multiple threads.
Weaknesses
The story starts out slow, and doesn't really pick up until Kvothe enters the University. The series also hasn't wrapped up yet, so it's tough to know if the ending will deliver on all the promises of the first two books. Right now there are a lot of hanging threads, and the plot feels unfocused. Rothfuss could wrap everything up beautifully in the third book, giving the first two books some retroactive narrative focus. But right now, the story feels a little adrift. Not much; but I have trouble seeing how some of the larger sub-plots tie into the main plot.
A Song of Ice and Fire (Series)
By: George R. R. Martin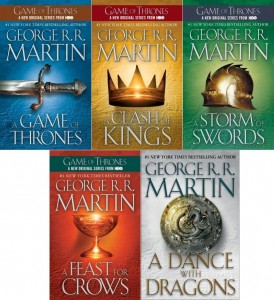 Description
A Song of Ice and Fire is what would happen if the heroes in an epic fantasy series weren't unusually good people or unusually lucky. Even though there's an existential threat brewing in the North, most of them spend their time backstabbing and fighting each other, and most of them die.
Reviews
"These other threads show us two different daughters, a romantic and a tomboy, and how they fare in these less­-and-more than chivalrous times; a bastard and a 'true-born' hero and another son whose legs are paralyzed but whose mind soars; another family where one son is handsome and vicious and evil yet brave, and his brother—a dwarf, my favorite character in the novel—is conniving, yet so honorable that he pays his debt of gold to a cruel, stupid jailor whom the dwarf has talked into taking a message that will free him. Yes, I liked this dwarf so much that I truly felt glad when, after months of travail, he finally finds comfort in a prostitute's arms. The book is so good at this, so real and effective in its complex characterizations, that I would vote it an award just for that, and the dragons be damned."–Paul Levinson, Tangent Magazine, Fall 1996 (Review of A Game of Thrones, Book 1)
"A vast, rich saga, with splendid characters and an intricate plot flawlessly articulated against a backdrop of real depth and texture. Still, after 672 dense pages, were you expecting a satisfying resolution? You won't get it: Be prepared for a lengthy series with an indefinitely deferred conclusion."–Kirkus (Review of A Game of Thrones, Book 1).
Strengths
George R. R. Martin is a master at creating characters, and you get a visceral sense for each man and woman he writes. He also recognizes that the line between good and evil cuts through the heart of every human being; no-one is a saint, and no-one (except Ramsay Bolton) is truly awful. That makes the story more authentic and more realistic than a lot of fantasy stories. He's also not afraid to kill characters, and while this gets tiresome eventually, it also keeps readers on their toes.
Weaknesses
The story feels a little unfocused. Even though the dead are walking in the North and readying to destroy humanity, no-one really cares; most of the characters just keep fighting each other. There are a dozen plot lines and none of them feel more important or central than the others (the Starks are a very slight exception). Also, the first few books follow the War of the Roses pretty closely, which makes some plot twists easy to predict.
The Dragon's Curse
By: Julian Adorney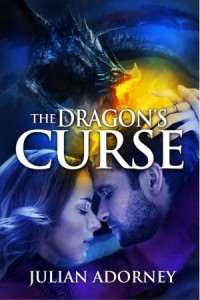 Description
Princess Esmerelda, hunted by an obsessed king, struggles to survive and find love in a world where the Gods themselves want her dead. When Princess Esmerelda stumbles onto a secret buried in the depths of her floating city, the God of Fate curses her. Within seventy days, she will die and her beloved kingdom will fall. If Esmerelda is to survive, she'll have to unravel the secret of why she was cursed and learn to beat a spiteful God at its own game.
Complicating her struggle is Parius, a dashing stranger with a mysterious past. He's brave and noble and unpredictable, and she finds herself falling for him. But he has dark secrets all his own, secrets their budding relationship may not survive. Their quest takes the pair to forgotten magics, beautiful witches in sleepy villages, and the ancient caverns of the dragons. But time is running out. Can the lovers defeat the God of Fate, or will they lose everything they hold dear?
Strengths & Weaknesses
I'm not going to try and write about the strengths and weaknesses of my debut novel (bias and all that 😉 ). That said, if you like the description and the books I enjoy reading (which influence how I write fiction), I would be honored if you would pick up a copy